When we first started courting you for this this 14-day green smoothie experiment, we talked about the importance of nourishing your digestive qi throughout this process. In Chinese medicine, the spleen and stomach are the primary organs involved in the proper movement of food as well as the conversion of food into useable energy. Ring a bell?
There are a few things you can do to make nice with your spleen & stomach, while supporting and stoking your digestive qi:
Start the day with a hot morning tonic.
Drink your green smoothie at room temperature.
Include foods with warm properties in your smoothies to balance out the cold/raw nature of other ingredients.
Eat until you are no more than 70% full.
Chew your food thoroughly and put your fork down in-between bites (i.e. slooow down).
Avoid eating within 2 hours of your bedtime.
Shop for and eat what's in season.
Speaking of eating seasonally, a great way to do this is to participate in a local Community Supported Agriculture (CSA) program. We love Front Porch Pickings because they deliver a box of locally grown fresh-picked fruits and veggies every week to our front door. They offer a range of boxes to choose from starting as low as $22/week. Aside from the convenience factor, one of the great benefits we've found in utilizing this service is how famliar we now are with the growing season in our area. It extends to our supermarket shopping in that we can more easily identify the fruits and veggies that are in season.
Today's recipe comes from a flyer we received in our Front Porch Pickings fruit & veggie basket a few weeks ago. It's one of those crowd pleasers: even the toughest of critics can't deny this luscious gulp of heaven. Dee-LISH!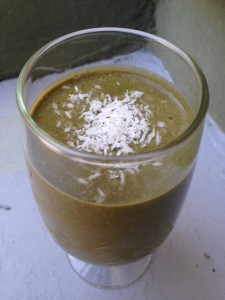 Almond Joy (serves 2)
2 cups fresh kale, stems removed (warm property)
2 cups almond milk (warm property)
1 banana (cool property)
2 pears (cool property)
2 tbs coconut flakes, unsweetened (warm property)
2 tbs cacao powder (warm property)