It has been a little over a month since I returned from a week of acupuncture service in Puerto Rico as part of an effort organized by Acupuncturists Without Borders (AWB) , an organization that provides disaster relief, recovery and support for communities affected by disasters, human conflict, environmental devastation, poverty and social injustice. Our mission was to interrupt the devastating effects of trauma caused by Hurricane Maria. We used community-style ear acupuncture as a powerful, simple, safe way of helping people "reset" their nervous systems and experience a greater state of calm, quiet and clarity. When a group experiences relief from chaos, there is opportunity for hope, determination and resiliency to be restored, which allows communities to move forward.
This trip was made possible by the support of many of our patients, and I'm excited to now share my experience with all of you as it was both deep and enlightening.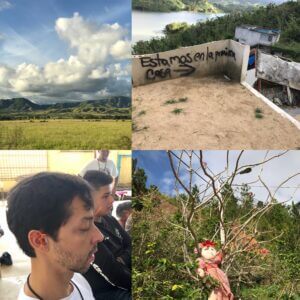 Puerto Rico is called "the Island of Enchantment" for good reason. It has lush, rolling green mountains and is skirted by the blue-green water of the Caribbean. From afar it resembles a Hawaiian island but up close it looks and feels more like a developing South American country and not part of the United States at all. Almost three months after hurricane Maria ravaged the island, I was able to experience a unique snapshot of a culture struggling to rebuild. Many socio-political, logistical and environmental challenges lie ahead for the people of Puerto Rico and the path to recovery seems daunting, even to an outsider like me.
But what I relied on in order to keep from getting overwhelmed by the prospect of it all, was Chinese medicine, both as a practitioner and patient. I trusted the medicine to keep me healthy and in the present moment, which was especially necessary during this relief effort.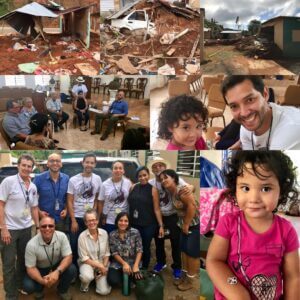 Our tight-knit group of alternative practitioners visited many different types of communities and private homes, from remote, rural mountain villages to more urban and modern towns, some of which had been harder hit than others. Downed power lines, road signs and traffic lights scattered the roads. We got lost almost every day on the way to or from our base in the town of Ponce, but miraculously we always made it to where we needed to go, and on time. Many of the places we went to still had no electricity or water and lacked basic necessities and supplies. The folks we encountered were exhausted, frustrated, anxious, depressed and/or in pain. Many were ready to vent about what they had gone through, but some were more stoic and solemn. Despite this, we were received graciously and on multiple occasions we were given a home-cooked meal, which to me was the ultimate display of generosity – to give when there is little to give.
We gave close to 1,000 acupuncture treatments to young and elderly alike at the daily, mobile clinics we set up throughout the island. Through acupuncture, massage, homeopathic therapy and meditation, we were able to offer a little respite and hope at a time when it is needed most.
In general I was blown away by the heart, resilience and resourcefulness of the Puerto Rican people. I spoke with many who citizens who didn't view themselves as victims. Rather, they viewed the effects of Hurricane Marie as a wake up call and an opportunity to rebuild in a better way. Many realized that help may not come when expected and have taken it upon themselves to help each other out in anyway possible. I witness so many small, sustained community efforts that I believe will help shape the foundation for a healthier PR.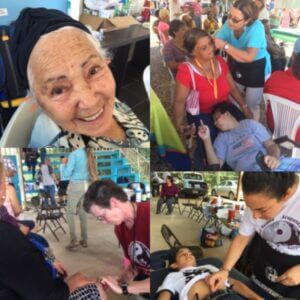 I cannot say enough about the healthcare practitioners that had the honor of working with. Each team member possessed a love for their craft and a selflessness that was inspiring to be around. We laughed, cried and worked hard together, and I will be forever grateful for this experience. I came back with a renewed sense of purpose and a heightened appreciation for the subtle power of Chinese medicine. I left feeling a reassured that efforts like ours will continue to bring support to those who chose to stay on the island and face the arduous task of rebuilding.
I want to thank all of you for helping me make this effort possible and I urge you to continue to keep Puerto Rico in your heart and prayers.
In the spirit of health and service,
– Jorge